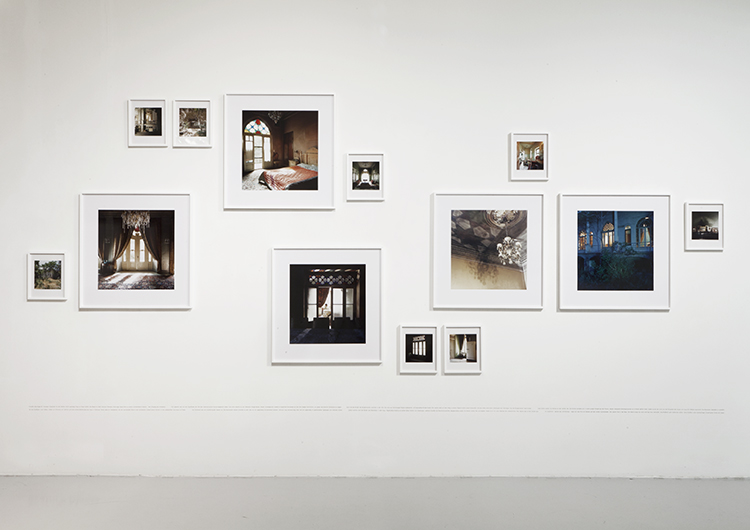 * * *
Tea Time in Tehran
While working on a series of photographs of private houses in the Islamic Republic of Iran in 2010 and 2011, Beatrice Minda discovered, in the heart of old Tehran, an old patrician villa set back behind high walls in the middle of a stifling and hectic area given over to car dealers. The villa is said to have once belonged to the Austrian Consul, and it is stylistically a unique combination of Western and Oriental influences.
Several generations of a large Persian family have each left their trace. Now both house and garden seem to have entered into a fairytale slumber, inhabited by a single servant. As if time has stood still. Not long ago, however, elderly ladies could be found here once a week taking tea in Louis-XVI armchairs and nibbling at Tehran's fine pastries, while outside people's living conditions were being transformed by the Islamic Revolution.
*
Tea Time in Tehran
Während meiner fotografischen Erkundungsreisen durch Privathäuser in der islamischen Republik Iran habe ich im Herzen des alten Teherans, inmitten des stickigen und hektischen Autohändlerquartiers eine alte Patriziervilla hinter hohen Mauern entdeckt. Der Legende nach einst dem österreichischen Konsul gehörend, ist dieses Anwesen stilistisch eine einzigartige Mischung aus westlichen und orientalischen Elementen.
Mehrere Generationen einer großen persischen Familie haben hier ihre Spuren hinterlassen. Nun liegen Haus und Garten gleichsam im Dornröschenschlaf, nur noch von einem Diener bewohnt. Die Zeit scheint darin stehen geblieben. Bis vor kurzem haben sich hier wöchentlich ältere Damen zum Tee in Louis XVI-Fauteuils niedergelassen und vom feinen Teheraner Zuckergebäck genascht, während draußen die islamische Revolution die Lebensverhältnisse veränderte.